Welcome to the Fenton Firefighters Charities Site
---
2015 Year in Review
The 2015 year was a great success for our charity. This year's fundraisers included our 9th annual golf outing at The Preserve golf club in which over 100 golfers participated.
Our annual Run Through the Flames event we revamped this year as we teamed up with The Fenton Education Foundation for our first annual Run Through the Color and Flames event. The event featured a kid's fun run to start the event. There were over 100 runners that participated in the event that included multiple color stations along the 5K route and shooting flames at the Start/Finish line. The event was followed up with a post party sponsored by The Rough Draught coffee and barroom which featured live music, beer, cocktails and hotdogs.
Our second annual Nightmare on Mill Street event was held on Friday October 23rd. The event was a zombie themed costume party with music, dancing, drinks and prize for the best dressed.
The Charity teamed up with The Play Like Jackson Foundation to host two food giveaway events which allowed local families in need to come grocery shop at our station for free. The food was attained through The Eastern Food Bank of Michigan.
The week of Thanksgiving  we assisted and donated to the Methodist Church to supply and deliver Thanksgiving food baskets to local families in need.
We have helped many individuals and families in our area that have been displaced from their home, struggling with taking care of loved ones who are sick, injured or terminally ill. We were also a drop off site for Delivering Hope's Charity cereal drive which is dedicated to helping local children in need.
We would like to thank all of our sponsors and event participants who helped make our events and charity such a great success this year. We can only hope that 2016 is just as great!
---
Upcoming Event:
On Saturday March 12th, our charity will be teaming up with the Play Like Jackson Foundation to host another food giveaway. We invite all local families in need to visit our event. The event will be held from 9:00am to 11:00am at our fire station located at 205 E. Caroline Street in Fenton.
---
Nightmare on Mill Street Photo Gallery
---
---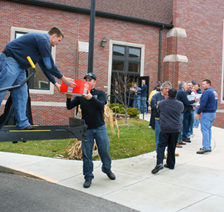 Our charity has been created by the dedicated firefighters from the City of Fenton, Michigan, who truly believe that we can make a difference in our community. As we respond into the community we can observe up close the personal situations where people truly need a hand to live and succeed. We seek to plant positive seeds in and around our community for the benefit of the whole community.
Pictured to the left. Above: Firefighters helping with the Thanksgiving Turkey food drive at Fenton United Methodist Church.