Welcome to the Fenton Firefighters Charities Site
---
2014 5th Annual "Run Through the Flames"
2014 8th Annual Golf Outing "Signup Now"
There will be a race packet pickup Thursday August 7th from 2pm-6pm and Friday August 8th from 4pm-8pm. Please stop at the fire station located at 205 E. Caroline Street Fenton, MI 48430 to pick up your race number and map on one of these nights prior to Saturdays race.

---
---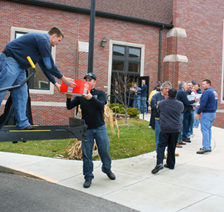 Our charity has been created by the dedicated firefighters from the City of Fenton, Michigan, who truly believe that we can make a difference in our community. As we respond into the community we can observe up close the personal situations where people truly need a hand to live and succeed. We seek to plant positive seeds in and around our community for the benefit of the whole community.
Pictured to the left. Above: Firefighters helping with the Thanksgiving Turkey food drive at Fenton United Methodist Church.
A Year in Review for 2013
The 2013 year was a great one for our charity. This years fundraising events (mainly our golf outing and road race) were by the far the biggest and best we have had so far. With the help of so many great businesses in our area and great local citizens here to support us, we were able to make so many wonderful things possible. In 2013, we were able to raise over $15,000 for our charity. 100% of all the money brought in goes right back into our local community to help so many people who need it.
2013 we were able to make donations to multiple families that have been hit with terminal illness' causing them to miss time from work etc.. We have also been able to donate to local food drives during Thanksgiving, adopt families for gifts during Christmas, sponsor little league baseball, sponsor our local high school's Project Graduation and even host our very own food drive/give away for citizens in Fenton and many more donations. None of this would be possible without the help of so many people in our community who care and the help of so many of our local firefighters who put in endless amounts of time to make these events happen. THANK YOU!!!!!!!!

Annually Sponsored Events
Each year the Fenton Firefighter work with local business to help sponsor events, fundraiser and activities to help families in need.
Some of these events include Golf Outings, 5K and 10K Runs, Silent Auctions and more…
Each year we get a variety of local sponsors.  These sponsors provide a range of support from financial needs to door prizes and volunteering products or services at deep discounts (or free).  Please check out the list of last years sponsors.  Read more…
Contact us to learn more!  Another way to help…we also accept donations via PayPal.