Welcome to the Fenton Firefighters Charities Site
---
Past event 2016 Nightmare on Mill Street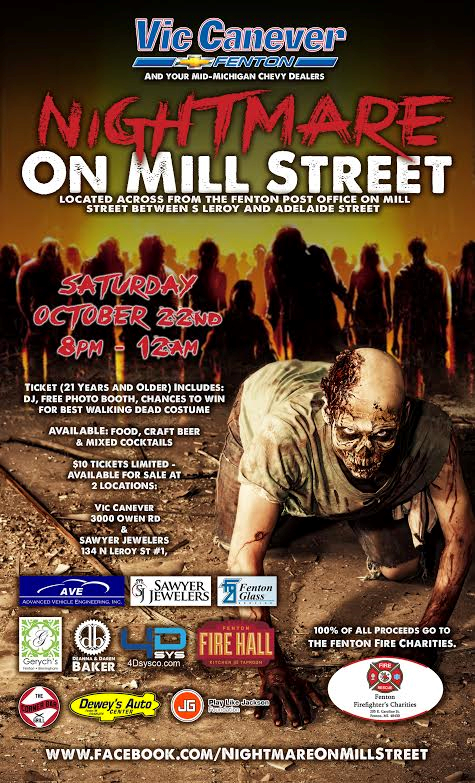 Thanks for all who joined the best "Walking Dead".  This was the 3rd annual Nightmare on Mill Street Halloween party and costume event. This year's party was on Saturday October 22nd from 8pm-12am. The event, presented by Vic Canever Chevrolet will be located on Mill Street in downtown Fenton across from the Post Office and between Adelaide and Leroy Streets.
Event included dancing to a live DJ, enjoying food from Fenton Fire Hall restaurant, taking pictures in our FREE photo booth and having a good time with friends while enjoying some drinks sponsored by The Corner Bar. There was a prize for best dressed "walking dead" costume at the end of the night.
This event was for adults 21 and up (cost is $10).  All proceeds help support the Fenton Firefighter's Charities. Thanks to all who supported and joined us!
---
TRUCKLOAD FOOD GIVEAWAY
Saturday September 24th we hosted another Food Giveaway event at our station. We teamed up with Play Like Jackson Foundation and St. Jude's Church to purchase food from the Eastern Michigan Food Bank. From 9:00AM-11:00AM, we invited anyone in our area in need of food to come grocery shop at our station. Shoppers were able to get items such as frozen meat, fresh fruit and vegetables, snack foods, drinks, boxed baked goods, new toiletry items and more. Over 200 families from the area visited the event and we had over 20 volunteers on hand helping out. Local school students also volunteered by helping carry groceries to the shoppers vehicles when they were finished shopping.
---
2016 Golf Outing Re-cap
This past August 27th, our charity hosted its 10th annual golf outing fundraiser held at the Preserve Golf Course in Fenton. The outing was presented by The Fenton Fire Hall Restaurant and sponsored by many other local businesses. There were 19 teams present this year and trophies awarded for 1st and 2nd place teams, as well as a toilet bowl "You stink" trophy for the last place team.
We kicked off our event with a putting challenge on the practice green. Everyone lined up on the fringe with a golf ball that had their name on it. On the count of three, everyone putted at the exact same time to a hole in the center of the green for a prize….
---
2015 Year in Review
The 2015 year was a great success for our charity. This year's fundraisers included our 9th annual golf outing at The Preserve golf club in which over 100 golfers participated.
Our annual Run Through the Flames event we revamped this year as we teamed up with The Fenton Education Foundation for our first annual RunThrough the Color and Flames event. The event featured a kid's fun run to start the event. There were over 100 runners that participated in the event that included multiple color stations along the 5K route and shooting flames at the Start/Finish line. The event was followed up with a post party sponsored by The Rough Draught coffee and barroom which featured live music, beer, cocktails and hotdogs.
Our second annual Nightmare on Mill Street event was held on Friday October 23rd. The event was a zombie themed costume party with music, dancing, drinks and prize for the best dressed.
The Charity teamed up with The Play Like Jackson Foundation to host two food giveaway events which allowed local families in need to come grocery shop at our station for free. The food was attained through The Eastern Food Bank of Michigan.
The week of Thanksgiving  we assisted and donated to the Methodist Church to supply and deliver Thanksgiving food baskets to local families in need.
We have helped many individuals and families in our area that have been displaced from their home, struggling with taking care of loved ones who are sick, injured or terminally ill. We were also a drop off site for Delivering Hope's Charity cereal drive which is dedicated to helping local children in need.
We would like to thank all of our sponsors and event participants who helped make our events and charity such a great success this year. We can only hope that 2016 is just as great
---
Nightmare on Mill Street Photo Gallery
---
---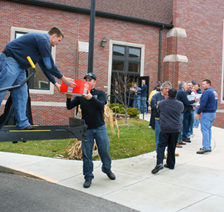 Our charity has been created by the dedicated firefighters from the City of Fenton, Michigan, who truly believe that we can make a difference in our community. As we respond into the community we can observe up close the personal situations where people truly need a hand to live and succeed. We seek to plant positive seeds in and around our community for the benefit of the whole community.
Pictured to the left. Above: Firefighters helping with the Thanksgiving Turkey food drive at Fenton United Methodist Church.