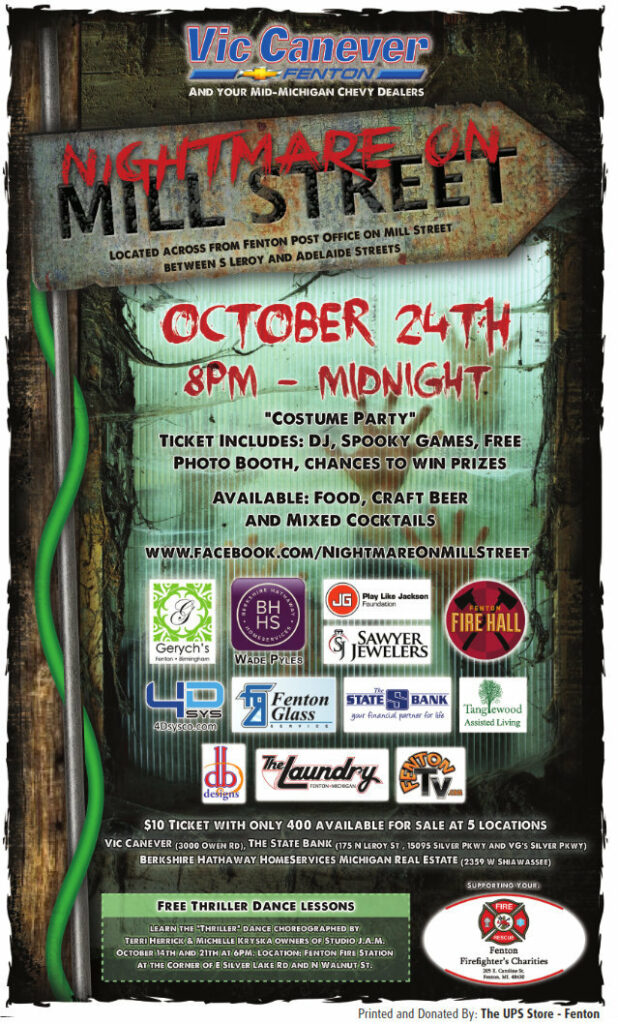 On Friday October 24th, our charity hosted the 1st annual Nightmare on Mill Street event. This was a zombie themed costume party that was held downtown behind Yesterdays Treasures and across from the post office. The event was from 8pm-midnight and had around 200 attendees. We raised about $7,000!
Throughout the night there were a dozen prizes given away as well as a raffle for a pair of diamond earrings before the nights end. A flash mob appeared around 11:45 doing a dance to Michael Jackson's Thriller song.
There were mixed cocktails, beer and a DJ to keep the party going. DB designs did the decorations for the event while Geryches donated the tents, and food was donated by the Fenton Fire Hall Restaurant. Vic Canever Chevrolet was the main sponsor for the event. We would also like to thank the many other sponsors that helped that night.
Thanks to the help of so many wonderful people, sponsors and attendees, our event was able to bring in around $7000 for our charity that night.
Nightmare on Mill Street Gallery
The purpose of the organization is;
To support the Fenton area communities for charitable needs  
To support State and National charitable causes  
To raise funds in support of our charitable activities  
To promote good will through those lives they are able to touch
The board is made up of diverse individuals of many ranks, serving on a purely voluntary basis. They are an all‐volunteer  organization with extremely low overhead with 99% of all funds raised going to help others.
---
Main Event Sponsor for 2014
Vic Canever Chevrolet – Fenton, MI
Gerych's Flowers & Events has graciously donated several tents, chairs, table and select décor items.
Additional key sponsors;
Tanglewood Home Care – Photo Booth    The Laundry – Craft Beer and a specialty Cocktail   Fenton Fire Hall – Barbeque theme food    Db Designs – Decorating Design Coordinator   Sawyers Jewelers – Prizes for games   J.A.M. Studio – Michal Jackson "Thriller" dance lessons prior to event.
---